Sunny E. Ohia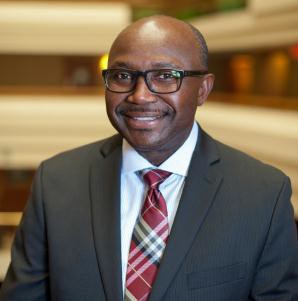 Sunny E. Ohia, Ph.D., FARVO, FAS, is a Professor of Pharmacology in the College of Pharmacy and Health Sciences at Texas Southern University. Dr. Ohia served as the Provost and Vice President for Academic Affairs and Vice President for Research from September 2008 until May 2014. With a budget of over $90 million, Dr. Ohia provided leadership for academic and research programs, academic support services, institutional effectiveness and strategic planning activities on campus. His accomplishments include the establishment of a new Honors College, several new online degree programs, new graduate and undergraduate degree programs, new research
partnerships, and an improved student enrollment and retention infrastructure. Furthermore, Dr. Ohia provided leadership for the establishment of a new freshman residential learning community funded by a $2.7 million grant from the Houston Endowment, Inc.
Prior to his appointment at Texas Southern University, Dr. Ohia was dean of the College of Pharmacy at the University of Houston, Houston, TX for six years. During his tenure at the University of Houston, College of Pharmacy, total research expenditures increased by more than 400 percent. Under his leadership, the number of endowed scholarships also increased by more than 120 percent to a total of more than $1.5 million. Furthermore, graduate student enrollment was up approximately 70 percent, and total expenditures from State government and local sources increased by more than 100 percent. When Ohia took the helm as dean in 2002, he spearheaded the initiative to recruit high quality faculty and was successful in achieving a 50% net increase in growth in faculty FTE's.
Prior to his tenure at the University of Houston, he served in a number of leadership positions at the Creighton University School of Pharmacy and Health Professions, Omaha, NE, including department chair and associate dean. He holds other academic appointments as adjunct professor of ophthalmology and visual sciences at the University of Nebraska Medical Center, Omaha and as an adjunct professor of integrative biology and pharmacology at the University of Texas Health Sciences Center in Houston.
Dr. Ohia is a member of several of professional organizations, including the US Pharmacopeia Convention, the American Society for Pharmacology and Experimental Therapeutics, as well as the American Association of Colleges of Pharmacy. Internationally, he is a member of the Association for Research in Vision and Ophthalmology (was elected Fellow in 2007), the British Pharmacological Society and the International Society for Eye Research. He is a member of the board of trustees of the Association of African Biomedical Scientists, the Nigerian Association of Pharmacists, and Pharmaceutical Scientists in the Americas. He was recently elected as Fellow of the Nigerian Academy of Sciences.
Dr. Ohia received his Bachelor of Science degree in pharmacology and his Master of Science degree in pharmacology and therapeutics from the University of Ibadan, Nigeria. He received his Ph.D. in pharmacology from the University of Glasgow, in Scotland, United Kingdom. Dr. Ohia completed postdoctoral research training fellowships in neuroscience and in ophthalmology/visual sciences at Memorial University of Newfoundland, Canada and the University of Louisville, School of Medicine, KY, respectively. Dr. Ohia is the principal investigator on a number of federal research grants and is the author of more than 250 original papers and abstracts (H-index 16; i10-index 33) and, holds three U.S. and five international Patents for his scientific work.